1. Submit to Conference Proceedings (EI)
All accepted full papers will be published in the conference proceedings and will be submitted to EI Compendex / Scopus for indexing.
◆ EI Template download: Template, No less than 6 pages
ICAIE 2020 has been Indexed by EI !
ICAIE 2021 has been Indexed by EI !
2. Submit to Journal
ICAIE 2023 cooperative English general publication (please note ["L977"] when submitting manuscripts will enjoy priority review and acceptance)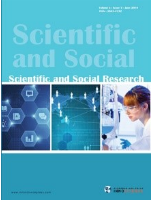 《Scientific and Social Research(SSR)》( ISSN:2661-4332) is an open-access, peer-reviewed international journal dedicated to publishing original papers, editorials, review articles, opinion papers, and letters related to science and society. It is devoted to papers in quantitative social science research and methods. The journal features articles illustrating the use of quantitative methods to empirically test social science theories. The journal focuses on research involving problems or methods across interdisciplinary subject areas. Particular attention is paid to methods used by only one particular social science discipline, but which may be applied to a wider field with the ultimate goal of testing social science theories.
Articles included in this journal will be submitted to CNKI, Google Scholar, etc. for retrieval.
Submission: click
For more details, please contact Mr. Li WeChat: 13922157154
3. Submit to other SCI Journals
Up to 10 selected papers will be recommended for publication in the following SCI journals.
Journal1:Scientific Programming(ISSN:1058-9244,IF=1.025,Special Issue )

Journal2:Mobile Information Systems(ISSN:1574-017X,IF=1.802,Special Issue)

Journal3:Wireless Communications and Mobile Computing(ISSN:1530-8669,IF=2.336,Special Issue)

Journal4:Electronic Commerce Research(ISSN: 1572-9362, IF=1.94, Main Issue )
Submission: click
* All submissions must not be less than 10 pages in length
Note: All submitted articles should report original research results, experimental or theoretical, not previously published or under consideration for publication elsewhere. Articles submitted to the conference should meet these criteria. We firmly believe that ethical conduct is the most essential virtue of any academics. Hence, any act of plagiarism or other misconduct is totally unacceptable and cannot be tolerated.